How to earn money fast in Adopt Me.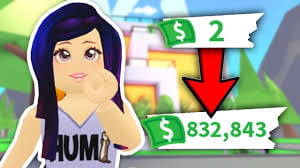 1 Get a cash register.   It is in the pizza section.  This way people can pay you.
2 Get a lemonade stand. ( It costs 30 robucks)  Say who ever buys the most gets a prize who ever does give them the prize.
3 Do the same thing as number 2 just use a hot dog stand ( I think it costs 50 robucks)
4 Buy a money tree.  They cost 1800 bucks but every day you get 100 dollars free!
5 Get lots of water from the supermarket. They are so cheep they cost 1 dollar
6 At the pet shop there is free food,  water and a bed for pets.
UTAH!